21

Using IQdesktop

Welcome to the IQdesktop system!

Upon first login: change the Start Password to a secret personal password! see here

The following chapters will give some introduction on how IQdesktop can help you to get your work done in an efficient and 100% reproducible manner. Navigation of this section is best done via picking the topic of interest from the side bar.
21.1

It's a normal computer

Think about IQdesktop as being a "normal computer" that
Has been installed properly with software and tools that are fit for the purpose of powerful and efficient Modeling & Simulation analyses.
Is qualified for work through thorough checking of key tools to work as intendend.
Enjoy its use!
21.2

Inbuilt Help System

A help system is available from the "Help" icon on the desktop. It provides convenient access to the documentation of different tools and to this IQdesktop book. You can also access the help system by executing doc on the command line in IQdesktop.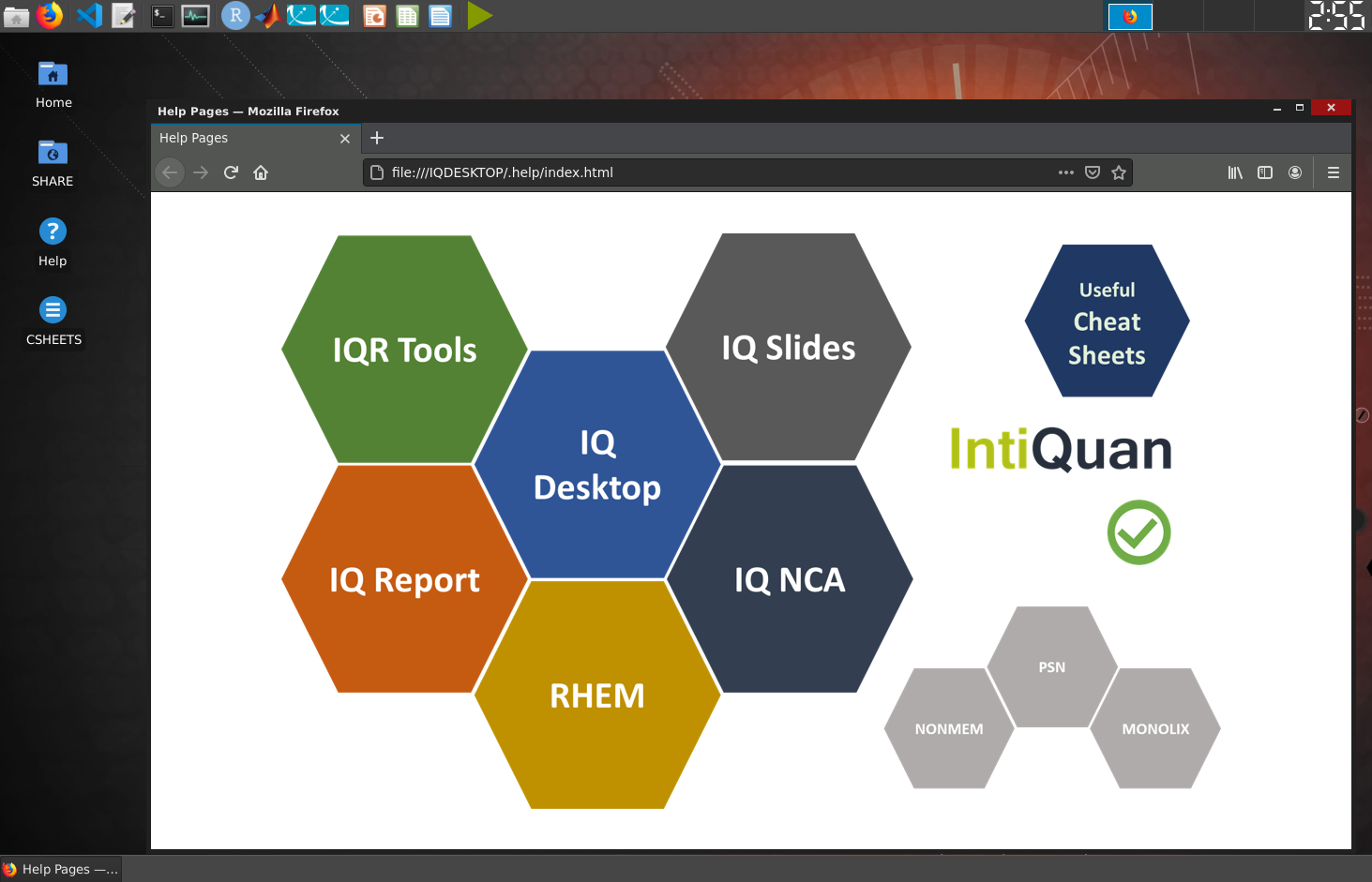 The only documentation that is not available in offline mode is the MONOLIX and PsN documentation.
21.3

Available M&S software

Information on the available key Modeling & Simulation (M&S) related software can be found as follows:
21.4

Support

Support of IQdesktop comes in three main flavors:
This web page: First stop for information on IQdesktop. The online version matches the always latest public version. In addition the webpage is available offline from within IQdesktop and matches the version of IQdesktop.

Free basic support: Provided through an Online Support Group in which anyone on the web can ask questions, provide suggestions, etc. The group is moderated to avoid spam. You can access this group also from within IQdesktop by simply typing support on the IQ Desktop command line.

Customized support: Contact us at info@intiquan.com. We will jointly look at what type of support arrangement might be best for you.